Eight Meeting 10th May 2001

Presentation by Professor Elizabeth Treasure
Professor Treasure is Professor of University of Wales, Cardiff
Professor Treasure dealt with her experience of the recent 'Systematic Review of Public Water Fluoridation',which was carried out by the University of York in conjunction with the University of Wales, Cardiff and the University of Leicester. (24)
This review is known as the 'York Review' and will be referred to as such from now on in the text.
Professor Treasure initially explained the principles underlying a systematic review and then provided some background information on how and why the York Review took place.
A systematic review is:
A process of systematically locating, appraising and synthesising evidence from scientific studies, in order to obtain a reliable overview.
It may or may not include a meta-analysis ( a quantitative synthesis of the results of primary studies)
If it includes a good randomised control trial, the evidence provided is considered to be Grade 1 evidence.
It identifies what we currently know and what we do not know.
It adheres to a strict scientific design to make it comprehensive, to minimise the chance of bias and to ensure reliability.
Rather than reflecting the views of the authors or being based on only a selection of the published literature (possibly biased) it contains a comprehensive summary of available evidence.
The authors were commissioned by the Chief Medical Officer in the Department of Health in England to 'carry out an up to date expert scientific review of fluoride and health'. Funding was provided by the Department of Health and a management structure was put in place to oversee the review process.
The Centre for Reviews and Dissemination in York is a facility commissioned by the NHS Research and Development division. Its aim is to identify and review the results of good quality research and to disseminate actively the findings to key decision makers in the NHS and to consumers of health care services.
It is academically independent of the government and in the past has in fact produced reports, which have not always been favourably received by the government.
The Dental Public Health Unit, Dental School at the University of Wales in Cardiff was involved to provide context validity and dental expertises to the review, i.e. as dental professionals were not part of the Centre for Reviews and Dissemination in York. All work performed by each institution was reviewed by the other.
The individual institutions provided peer review, while comments and criticisms were invited from the public via a web site.
The study protocol, including specific objectives was written by the review team, with the consultation and agreement of the advisory panel and in discussion with the Department of Health.
The review agreed upon was a review of human epidemiological studies of water fluoridation.
Study Objectives
Objective 1:What are the effects of fluoridation of drinking water supplies on the incidence of caries?
Objective 2: If water fluoridation is shown to have beneficial effects, what is the effect over and above that offered by the use of alternative interventions and strategies?
Objective 3: Does water fluoridation result in a reduction of caries across social groups and between geographical locations, bringing equity?
Objective 4: Are there differences in the effects of natural and artificial water fluoridation?
Methods
A search of 25 electronic databases (with no language restrictions) and the world-wide – web was undertaken. Relevant journals and indices were hand searched and attempts were made to contact authors for further information.
Papers were assessed for inclusion by three reviewers who independently assessed each title and abstract located through the searches for relevance to the review. Decisions about inclusion of studies were made according to the following pre-determined criteria:
Relates directly to fluoride in drinking water supplies.
Is a primary study (not a review of studies)
Research involves humans
Involves two groups with different fluoride concentrations in water supply
For caries studies, evaluates two points in time, one of which is less than three years since the change of water fluoridation status in one of the two groups.
The degree to which each study dealt with methodological issues, such as selection, confounding and measurement, was graded into three levels.
Level A:highest quality evidence with minimal risk of bias.
Prospective studies, that started within one year of either initiation or discontinuation of water fluoridation and have a follow up of at least two years for positive effects and at least five years for negative effects.
Studies either randomised or address at least three possible confounding factors and adjust in the analysis where appropriate.
Studies where fluoridation status of participants is unknown to those assessing outcomes.
Level B:evidence of moderate quality, with a moderate risk of bias.
Studies that, started within three years of the initiation or discontinuation of water fluoridation, with a prospective follow-up for outcomes.
Studies that measured and adjusted for less than three but at least one confounding factor.
Studies in which fluoridation status of the participants was known to those assessing primary outcomes, but where other provisions were made to prevent measurement bias.
Level C:Lowest quality of evidence, with a high risk of bias.
Studies of other designs (e.g. cross-sectional), prospective or retrospective, using concurrent or historical control, which met other inclusion criteria.
Studies that failed to adjust for confounding factors.
Studies that did not prevent measurement bias.
Full articles of titles and abstracts found to be relevant to the review were obtained for full assessment of inclusion criteria. Three reviewers independently assessed each paper for the pre-determined inclusion criteria.
Inclusion Criteria
There were specific inclusion criteria for each objective based on participants, interventions, outcomes measured and overall design of the study. All criteria were defined before the studies were assessed and were based on criteria commonly applied when critically applying community based interventions.
For studies looking at caries prevention the following criteria applied:
Is this a prospective study design?
Are at least two populations compared? (i.e. there were baseline and follow-up examinations).
Are there different fluoride concentrations in the two populations?
Start of study less than one year since change in fluoridation status.
Measurable outcomes reported (decayed, missing and filled teeth)
For studies measuring possible negative effects (i.e. cancer, fluorosis etc) the following inclusion criteria applied:
Are at least two populations compared?
Are there different fluoride levels in different populations?
Any outcome measure or study design.
The levels of evidence varied because the burden of proof has to be greater for something that is of benefit compared with that, which may be harmful. In other words, there needs to be more proof to continue than to stop.
In all 3246 references were identified by search methods and submissions. From these 735 met the relevance criteria and from this selection, 254 fulfilled the inclusion criteria and were analysed for inclusion in the final report.
Professor Treasure explained the methods employed to display the results of this review process. She displayed various graphs depicting the results. These may be seen in the 'York Review' document on the web. An example of such a graph, a forest plot, is shown below.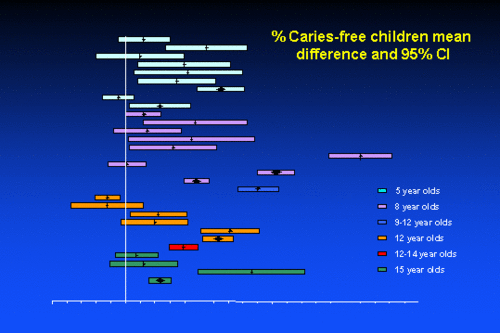 A "forest plot" is a pictorial presentation of the mean effect with confidence intervals. Studies are indicated with a rectangle showing the 95% confidence intervals around the mean. The 95% confidence interval is the interval within which 95% of values of estimates derived from identified studies will fall.
The vertical line at zero is the "no effect line" for measures of difference. If the rectangle crosses the "no effect line" the difference is not statistically significant. If the rectangle is to the right of the line the difference is statistically significant and fluoridation is associated with an increase in the proportion of children who are caries-free. If the rectangle is entirely to the left of the line the difference is statistically significant and fluoridation is associated with a decrease in the proportion of children who are caries-free.
Heterogeneity: the variation between studies in the estimate of effect.
Where heterogeneity was a factor, i.e. a lot of variation in mean values, it was not possible to perform a meta analysis. In this situation a meta regression was used to explain the variation between studies.
Results
A total of 3246 references were obtained, of which 735 met the relevance criteria. From the 735, only 254 met the inclusion criteria and were included in the final analysis.
As social class measurements are not standarised worldwide, only UK studies on social class were included.
Professor Treasure made the point that the use solely of UK studies prevented other countries from extrapolating results to their situations in this particular aspect.
A total of 26 studies of the effect of water fluoridation on dental caries were found. For this objective the quality of the studies was moderate (no level A studies). A large number of studies were excluded because they were cross sectional studies and did not meet the inclusion criteria of being evidence of level B or above.
Professor Treasure illustrated the findings with a number of graphs and made the point that the best available evidence suggests that fluoridation of drinking water supplies does reduce caries prevalence, both as measured by the proportion of children who are caries free and by the mean change in dmft /DMFT score. The studies were of moderate quality, but of limited quantity.
Professor Treasure then spoke about the numbers need to treat (NNT) which refers to the number of people who need to consume fluoridated water in order that one extra person is caries free. In the case of primary dentition, 9 people need to consume fluoridated water to make one additional person caries free; in the case of permanent teeth the NNT is 5 and for all teeth the NNT is 7.
She compared these figures with a US study, which showed that 12 people need to use fluoride mouthwashes to produce one caries free tooth surface. There are 130 tooth surfaces in the mouth and not all are at equal risk of caries.
A study by Hardwick was next referred to, in which the effect of water fluoridation was assessed in the same children over a three-year period. (25)
It showed a statistically significant difference in the increment in both DMFS and DMFT scores, with children in the fluoridated area having fewer new decayed, missing or filled tooth or surfaces after the three-year period.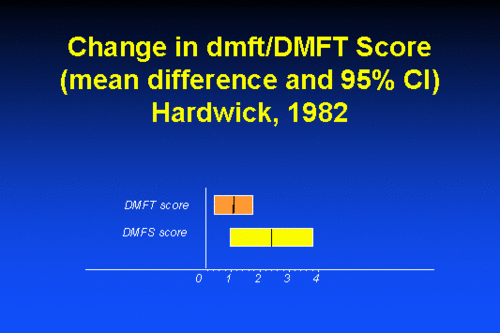 Studies, which looked at the effect of the cessation of water fluoridation, indicated that caries prevalence increases, approaching the level of the low fluoride group. The studies were of moderate quality and limited quantity.
In the area of social inequality Professor Treasure made the point that since data on socio-economic status was only available for children aged 5 years of age, caution must be taken in drawing conclusions.
On the issue of including only human studies, Professor Treasure made the point that where substantial human studies are available it makes no sense to use animal studies and was not good scientific practice. She spoke of the dangers of placing too much reliance on animal data and quoted the case of thalidomide.
Dental fluorosis was the most widely and frequently of all negative effects. Although 88 studies were included they were of low quality.
As there has been debate about the significance of a fluorosis score at the lowest level of each index being used to define a person as 'fluorosed', a second method of determining the proportion 'fluorosed' was selected. This method describes the number of children having dental fluorosis that may cause "aesthetic concern".
With both methods of identifying the prevalence of fluorosis, a significant dose-response relationship was identified through a regression analysis. The prevalence of fluorosis at a water level of 1.0 ppm was estimated to be 48% (95% Confidence Interval: 40 to 57) and for fluorosis of aesthetic concern it was predicted to be 12.5% (95% Confidence Interval: 7 to 21.5).
A univariate analysis of the studies of fluorosis revealed that as water fluoride concentration increases so does the prevalence of dental fluorosis in a population. When the level of fluorosis was looked at for varying levels of water fluoride, it was shown that the difference of dental fluorosis at 1.0 and 1.2 compared with 0.4 ppm were statistically significant.
A rough estimate of the numbers needed to cause harm (cause fluorosis) provide an estimate of the number of people that need to receive water fluoridated at the new level 1.0 ppm (compared to 0.4 ppm: a theoretical low fluoride level) for 1 extra person to have dental fluorosis. Increasing the level of water fluoride from 0.4 to 1.0 ppm would lead to one extra person with dental fluorosis for every 6 people receiving the new higher level of water fluoride.
It was found that increasing the water fluoride level from 0.4 to 1.0 ppm, would mean that one additional person for every 22 people receiving water fluoridated to this level would have dental fluorosis of aesthetic concern. However, the confidence levels around this value include infinity, which means that it is possible that there is no risk.
Professor Treasure proceeded to look at the topic of bone fracture and fluoride. There were 29 studies included in the York Review. All but one of the studies were of evidence level C. A forest plot of these studies demonstrated that the majority of the measures of effect and their confidence intervals were distributed around 1, the line of no effect for related measures (suggesting no association).
Similar findings were observed for cancer studies.
Professor Treasure made the point that while no evidence has been found to substantiate links between fluoridated water and bone fractures, the York Review did not state that fluoride does not cause fractures, but that no evidence was found that fluoride cause fractures: i.e. one cannot prove a negative.
Professor Treasure made the following summary points:
It had been anticipated that cohort studies would be available; they were not.
It had also been anticipated that studies looking at other sources of fluoride would be available: none were available.
Likewise anticipated studies looking at age, sex and socio-economic status were not available.
There was limited quantity of moderate evidence supporting the positive effect of fluoridated water on the incidence of dental caries.
There was limited quantity of moderated evidence supporting the positive effect of fluoridated water above other sources of fluoride.
There was sparse evidence in reduction of caries across social classes in 5-year-olds and more evidence is needed.
With regard to negative effects there was a dose response association with increasing fluoride concentration.
There was no effect on bone or cancer.
There was no major differences in the effects of natural and artificially fluoridated water.
Overall quality of studies was poor when compared with the quantity.
There is a need for further research of good quality.
Following the publication of the York Review, the U.K. government set up a Medical Research Council (MRC) commission to look at research needs and policy implications. The MRC plans to publish a report in September 2001.
Professor Treasure's personal view was that the MRC will not call for larger new studies, but that an evaluation element may be built into any new water fluoridation schemes.
She made the point that a randomised control trial of individuals would be extremely expensive, but that a National Diet and Nutrition Survey in the U.K. based on a random sample of adults was planned and that perhaps urinary fluoride levels of these individuals could be measured.
Presentation by Ms Margaret O'Neill
Ms O'Neill a community nutritionist working in the South Western Area Health Board of the Eastern Regional Health Authority, made a presentation entitled 'Nutrition and Oral Health'.
Ms O'Neill commenced her presentation by making the points that while there is a clear correlation between dental caries and sugar consumption it is the frequency of consumption rather than the amount that is important.
All types of sugar can promote decay – sucrose, fructose, glucose, maltose. Lactose, in milk, has a low potential to cause decay. Dental erosion is most likely due to too frequent use of high acid drinks minerals and fruit juices. The message currently being given with regard to increasing the intake of fruit juices for the vitamin C benefit, can lead to confusion with regard to this danger.
Ms O'Neill illustrated this concept by reference to the Food Pyramidin which dental and nutritional messages may be confused by the layout. While the agreed safe number of 'sugar attacks' per day for children has been agreed at a level of 4, there are no hard facts available on what children actually eat.
Ms O'Neill then outlined the nutritional policies currently in use
Recommendation for a Food and Nutrition Policy for Ireland 1995
Building Healthier Hearts
National Health Promotion Strategy 2000 – 2005
Recommendations for a National Infant Feeding Policy
Oral Health in Ireland
Recommendations for a national food and nutrition policy for older people 2000.
Dietary guidelines were outlined:
Eat a wide variety of foods
Balance energy intake with physical activity
Eat plenty of fruit and vegetables
Starch foods such as bread cereals, pasta and rice such be eaten daily
Frequent consumption throughout the day of foods containing sugar should be avoided especially by children
Total fat intake should be reduced.
Reference was made to results of nutrition surveys undertaken in 1999 and 2000. Nutrition related dental problems were seen in all age groups from infants to the elderly and in disadvantaged groups.
In the case of infants, drinking from a bottle in bed, extended use of a bottle after one year, high fruit juice intake, no definite meal times and over use of soya formula all resulted in dental problems.
To prevent or avoid some dental problems it was recommended in a National Infant Feeding Policy in 1999, that:
Fizzy drinks, mineral water and tea were unsuitable for infants.
Fruit drinks should not be given in lieu of milk, from a bottle or at bedtime; small amounts may be given from a cup at meal times.
Sugar, honey or rusks should not be added to milk drinks; a cup should be used from the age of six months.
With regard to pre-school children, it has been found that poor eating habits, frequent snacking, soothers dipped in sugar or jam, sugary medicine and fruit juices in bottles all contribute to dental decay.
Legislation governing pre-schools facilitates inspection of facilities by Environmental Health officers and by Public Health Nurses. During such inspections it was observed that the pre-school diet is high in both sugar and fat and that water is not always readily available for drinking.
Ms O'Neill presented results of a number of studies, which showed that eating habits of school children and adolescents are dominated by the practice of grazing and the consumption of frequent sugary snacks. These foods tend to be high in both sugar and fat. A fairly similar picture was seen for adults, where 18 to 35 year olds consume 35% of their energy requirements outside the home.
In mainstream primary schools, the school meals scheme is currently under review. Ms O'Neill referred to an initiative in an inner city school where the provision of cooked meals in the school resulted in increased level of attendance and in the alertness of the children.
The sugar content of foods and beverages is often difficult to calculate as food labelling can be quite confusing; the presence of carbohydrates is usually clearly labelled, but the contribution made by sugar is oftentimes not so clear.
Sugars can be described as gluosce, maltose, dextrose, honey, fructose, glucose syrup, molasses, treacle, invert sugar, malodextrins, maple syrup. Foods are labelled "sugar free", "no added sugar" or "sugarless" without clear definition of these terms. Low fat foods are often high in sugar.
Ms O'Neill made a number of points about the consumption of soft drinks.
200,000 Irish teenagers drink Coca Cola each day
160,000 Irish people drink Diet Coke daily
Soft drinks are worth £231 million to the Irish market
Ireland had the 5th highest consumption of soft drinks in the world: 94 litres / person / annum
While water is tooth friendly, fizzy water can be acidic. Milk is also tooth friendly, but flavoured and soya milks and some milk shakes contain large amounts of sugar. Milk can be cariogenic if in contact with teeth over prolonged periods: i.e. bottle in bed.
On the topic of ready to drink fruit drinks and squashes, Ms O'Neill made the point that most cartons are high in sugar. One glass of juice contains the equivalent of 5 1/2 teaspoons of sugar (27 grams); highly sugared squashes should be avoided and should be diluted in a ratio of 1:8.
Fruit juices are high in Vitamin C, but their consumption should be limited to mealtimes. Excessive consumption can lead to dental erosion. Fruit juice sales are the second largest sector of the Irish soft drinks market: £63 million pounds and 53 million litres per annum.
Mineral consumption was dealt with next. These are very popular with teenagers and have displaced milk from the diet of many. As a result there is an increased risk of fractures with high consumption of caffeine in these drinks (caffeine increases calcium excretion). One can of Cola contains 7 teaspoons of sugar. High energy drinks also have a high caffeine content: Red Bull is Ireland's 7thbiggest soft drink by value of its sales.
Following this overview on nutrition and oral health, Ms O'Neill spoke about fluoride in the diet. There is no recommended daily allowance (RDA) for fluoride in Ireland and its daily intake is unknown. As tea is high in fluoride, it could be assumed that the intake is reasonably high; 91% of Irish people are tea drinkers; the consumption of bottled water is high (the fluoride content is unknown, however) and a high percentage of infants are bottle-fed.
In the U.K. the RDA for infants < 6 months is 0.22 mg/ kg body weight / day; for children under 6 years the RDA is 0.12 mg / kg body weight / day and in children over 6 years and in adults the RDA is 0.05 mg / kg body weight / day.
Breast milk is low in fluoride; 5 – 25 micrograms / litre. Infants between 6 months and one year, consuming formula reconstituted with non-fluoridated water receive 0.010 – 0.012 mg / kg /day while those consuming milk reconstituted with fluoridated water receive 0.22mg/kg/day.
In conclusion, Ms O'Neill listed a few golden rules for a dental friendly diet:
Limit frequency of consumption
Offer low sugar snacks / drinks
Eat a wide variety of foods from the Food Pyramid
Dilute squashes and juice: consume only at mealtimes
Follow feeding guidelines for infants
These rules were followed by Ms O'Neill's "wish list":
Nutrition policy – with dental health focus
Nutrition guidelines for pre-schools / schools with appropriate funding
Nutrition survey of young people
Specific projects in disadvantaged areas
A multidisciplinary co-ordinated approach to nutrition
Presentation by Professor Denis O'Mullane
Professor O'Mullane, Director of Oral Health Services Research Centre, University Dental School and Hospital, Cork delivered a presentation on the research contract awarded to the Oral Health Services Research Centre in Cork. This is part of the consultancy contract with the Department of Health and Children on behalf of the Health Boards.
This contract has been divided into a number of lots.
Lot 1 is concerned with the epidemiology of oral health and involves two oral health surveys: a National Adult Oral Health Survey (2000 – 2001) and a National Children's Health Survey (2001 – 2002). The aim of both surveys is to investigate differences in oral / dental health between fluoridated and non-fluoridated communities.
The National Adult Oral Health Survey is currently underway and involves the examination of a random sample of adults in three age groups: 16 – 24, 35 – 44 and 65 +. Thirty teams have been trained and calibrated and to date 2000 persons have been examined.
As well as looking at oral health, dental fluorosis in 16 to 24 years olds will be assessed; general health including any history of bone fractures will be assessed and knowledge and attitudes of the public to fluorides and fluoridation will be ascertained.
Pilot studies of the National Children's Dental Health Survey were in progress at the time of this presentation and fieldwork was due to commence in September 2001. A target sample of 12,000 children is planned aged 5, 8, 12 and 15 years.
New photographic techniques for the diagnosis of fluorosis from the point of view of restorative and aesthetic need will be employed.
The issue of fluoridation resulting in the delayed eruption of teeth will be looked at during the course of the survey. This was a point raised by Dr Paul Connett during his presentation to the Forum in September 2000.
Both surveys will be repeats of studies performed in the 1980s.
Lot 2 of the consultancy contract is concerned with fluorides and is subdivided into 3 tasks.
A study of fluoridation of public water supplies is being performed as a joint venture with the Dublin Dental School.
Fluoride mouth-rinses and toothpastes
Other forms of systemic fluoride supplementation e.g. tablets
Combinations of the above including matters relating to intake
Task 1: this involves a situational analysis, which will look at the legislation, sales, effectiveness and quality control.
Task 2:This involves total fluoride ingestion and absorption.
Task 3:This involves fluoride and bone health.
Professor O'Mullane presented results of Task 1, and showed that in total approximately 30,000 pupils in primary schools participate in fluoride rinsing schemes.
On the issue of effectiveness of fluoride rinsing a number of studies have been performed since the 1970s.
Task 2 which looks at the ingestion of fluoride is been undertaken on a collaborative basis with the University of Newcastle and the University of Indianapolis. It is concerned with determining which of two methods of dietary assessment of 2-3 year old children is most suitable for assessing dietary intake. Two techniques are being assessed:
The 3 day diary- developed by Andrew Rugg-Gunn, University of Newcastle and
the duplicate plate, developed by George Stookey, University of Indianapolis.
The study employs a method whereby parents/ guardians are trained to collect foods using a 3-day duplicate procedure and to record dietary intake by using a 3-day daily diary.
The foods and beverages are analysed and the fluoride content is determined. The amounts determined by both methodologies will be tabulated and compared, along with the compliance with and practicality of both techniques.
The duplicate method involves a high degree of motivation on the part of the parent and has been found to be a more accurate estimation of nutrient intake.
Collaborative work is being undertaken with a number of laboratories in the development of standard fluoride analytical methods. Scientists from a number of centres are involved in this project and include the following:
Dr Jamie Curry (State University of Campinas, Brazil), Dr Stephen Levy (University of Iowa, USA), Dr Yiming Li (Loma Lind University, California, USA), Dr Angeles Martinez Mier and Dr Ann Dunipace, (Indiana School Of Dentistry, Indiana, USA), Dr Denis O'Mullane (Oral Health Services Research Centre, Cork), Dr Prathip Phantumvanit (Thammasat University, Patumtani, Thailand), and Dr Gary M Whitford (medical College of Georgia, School of Dentistry, Augusta, Georgia, USA).
In order to develop a standard fluoride analytical method, an analysis of the fluoride content of 24 biological samples using the methods in current use are performed in each laboratory. The results from each laboratory will be collated and distributed to all collaborators; a plan will then be developed to resolve any differences in results and to identify preferred analytical procedures. Repeat analyses of another series of biological samples will be undertaken by all laboratories using the 'preferred analytical methods'. The outcome of this task will be published in a scientific paper in due course.
The estimation of fluoride absorption will be performed by looking at fluoride biomarkers, indicating short term and long-term absorption.
Short-term absorption will be measured in serum, saliva and urine, by the standard analytical method referred to above.
Long-term absorption may be measured in bone, enamel, dentine, hair and nails. Fingernail clippings provide a robust biological sample, are being used to assess long term absorption.
Samples from children in Cork, where the water if fluoridated and from Newry, in Northern Ireland, where the water is non-fluoridated, are being collected at present and will be analysed using the same analytical methods as Dr Gary Whitford, in Augusta, Georgia.
The advantage of using fingernails is that they are accessible, inert and easily stored. Fluoride enters the germinal matrix only.
Professor O'Mullane then spoke about a paper in which urinary fluoride excretion of young children exposed to different fluoride regimes was measured. (26) In Knowsley, where the fluoride content of water is less than 0.1 mg / litre the 24 hr urinary excretion was 0.21 mg / litre. Children who drank milk containing 0.5 mg Fluoride, the 24 urinary excretion was 0.30mg / litre, while children in Cork where water is fluoridated to 1 mg / litre, the 24 urinary excretion was 0.36 mg/ litre.
Task 3, which is concerned with fluoride and bone health was then discussed. The aim here is to develop standardises internationally accepted methods for the measurement of fluoride accumulation in bones of adults. A protocol for this is currently being developed.
Professor O'Mullane concluded his presentation by referring to other activities in fluoride research.
The cost effectiveness of water fluoridation compared with mouth rinsing will be the subject of a scientific paper.
Flint 2 is an EU funded project will look at the extent to which children aged 2 1/2 years swallow toothpaste and will follow up these children to see if fluorosis develops.
Back to Top
Return to the Summary of Presentations Part II Menu